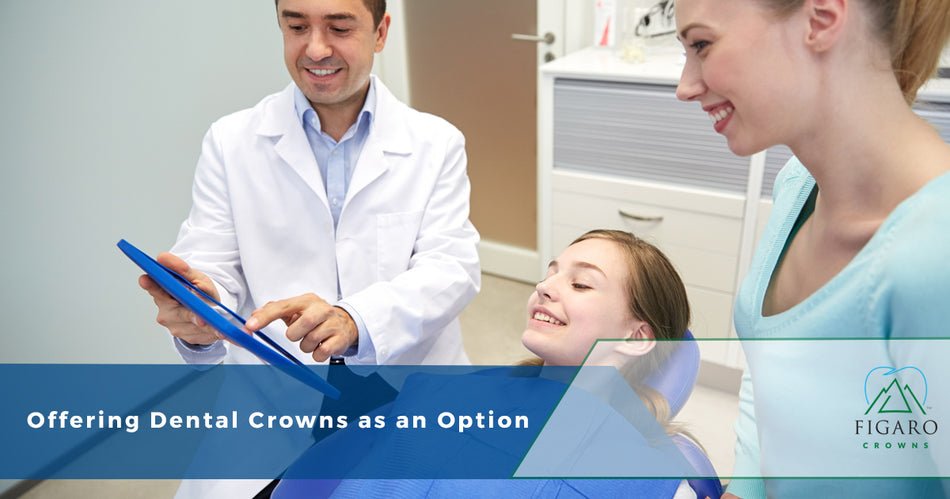 Offering Dental Crowns as an Option
As a dentist, you want to offer your patients the very best oral health options. You provide fillings for cavities, bridges for restorative work, and dentures for those who have lost multiple teeth, but what do you offer in terms of dental crowns? For many years, the traditional options for crowns have been zirconia and stainless steel, and while these can offer several benefits, there's always room for improvement. At Figaro Crowns, our fiberglass options are two times stronger than traditional options, and much more affordable!
Better Costs for the Dentist
It takes a lot of time and energy to operate a successful dentist's office, as well as money. The operating costs of employing a full-time staff, keeping equipment in good condition, and finding quality materials can be quite high, and if dental materials become too expensive, the dentist will have to transfer some of those costs to their patients. Our dental crowns are more affordable and require less chair time for the dentist to install them. This means the dentist can see more patients in a day's time while still providing each patient with quality oral care. These crowns also provide a better finished look and feel, meaning there will be fewer patients who come back in for adjustments.
Better Costs for the Patient
Dental work can be expensive, and a person may put off a certain procedure simply because of the price tag. If they require multiple crowns, a patient may ask their dentist which ones are imperative and which ones can wait. A dentist will of course want to remedy every issue as soon as possible, because the patient's overall health is their first priority. Since Figaro crowns are a more affordable option, the dentist can pass the savings on to the patient, keeping the patient's cost lower and their smiles brighter.
Perfect for Pediatric Dentists
Working as a pediatric dentist provides its own challenges and rewards, and if a child needs a crown, it can be difficult to get them to understand the process. By explaining to them that the crown will make their mouth healthier and that the installation will be quick, they may be more apt to sit still while the dentist works. Instead of struggling to get a zirconia or stainless crown on a small tooth, the dentist can easily place the fiberglass crown and secure it in place. This will allow the child to finish their visit and get on with their day!
If you'd like to learn more about our revolutionary dental crowns, please contact us today. Our mission is to work with dentists across Canada and to help them provide better and more beneficial dental services to their patients. A crown can be the perfect solution for saving a tooth and removing the need for bridges, dentures, and other oral devices. We strive to create a fantastic looking product that is easy to install and that will give patients the smile they want without an expensive price tag.
We look forward to speaking with you!