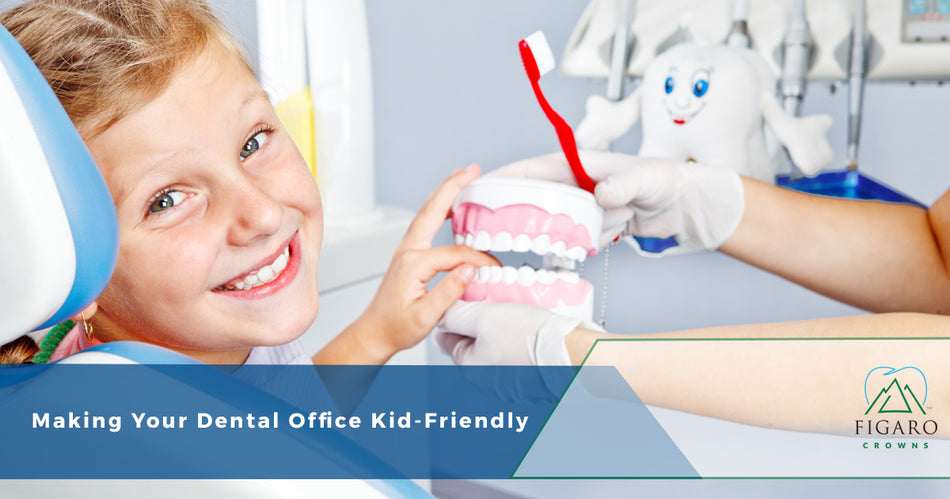 Making Your Dental Office Kid-Friendly
As a pediatric dentist, you've made a commitment to helping children enjoy better oral health, whether that's through regular cleanings, standard fillings, or dental crowns. In our last blog, we spoke about pediatric crowns for baby teeth and at Figaro, we're committed to helping dentists find the very best products for their patients. If you're opening a new practice or you want to shift your focus to pediatric dentistry, there are a few things you can do to make your dental office more kid friendly.
Your Waiting and Exam Room Decor
If you're focused solely on treating younger patients, then your waiting and exam room decor should reflect that. Picking a theme doesn't have to be difficult, and if you have kids of your own, look at what interests them and what could perhaps make a young child feel comfortable in a dentist's office. A child can be nervous when it's time to go to the dentist, and having fun decor can distract and comfort them when he or she is waiting or sitting in the exam chair.

You'll also want to have something for the child to do while he or she is in the waiting room. Activities like puzzles, toys, or cartoons on the TV can be a great help. Some pediatric dentists opt to have TVs in their exam rooms so the child can watch something while they're receiving treatment, but it can be too distracting for children of certain ages, so be sure to weigh all the options when making that decision.
Comfortable, Compassionate Dental Care
Some children will have absolutely no fear of the dentist, while others become very upset as soon as they walk in the door. They're unsure what's going to happen and once they're in the chair, they have to sit with their mouth open while you conduct your examination and provide treatment. Begin by explaining to them what you're going to do, and if their parent is present, make sure he or she understands as well. If you're placing one of our pediatric crowns, the packaging and design are created to cut down on the time it takes to install and set the device. With careful and compassionate care, you could diminish a child's fear of going to the dentist.
Offer Rewards
Many dental offices will offer something in the way of a reward when a child finishes an exam or treatment. Things like stickers and small toys can help a child know that he or she did a great job and that you want their smile to be bright and healthy. If you have the parent's permission, you might take a photo of the smiling child to add to a bulletin board in the waiting area (this is often best after a routine cleaning and exam, not treatment such as a filling or crown placement). A child can see themselves up on the wall, and may even spot a few of his or her friends!

Creating the perfect dental office for kids can seem like a challenge, but with the right touches, you can make a comfortable and inviting space where little ones feel safe. If you're interested in learning more about Figaro's pediatric dental crowns, please contact us right away. Our mission is to help dentists across the country find better products that cut down on chair time, provide a better look and feel for the capped tooth, and help children enjoy better oral health while they still have their baby teeth. Unlike traditional stainless steel or zirconia crowns, our fiberglass products are stronger and more affordable.
Call or message us online today!